The Indian Institute of Management Ahmedabad is considered to be one of the premier institutes of management education in India. IIM Ahmedabad was ranked as the top business school in India according to the Business Today B-School Rankings in 2007-08 and the ET B-school Survey 2007. It all started with Dr Vikram Sarabhai and a few other public spirited industrialists realizing that agriculture, education, health, transportation, population control, energy, and public administration were all vital elements in a growing society and that it was necessary to link these meaningfully with industry. The result was the creation of the Indian Institute of Management, Ahmedabad in 1961 as an autonomous body with the active collaboration of the Government of India, Government of Gujarat, and industry.
IIM-A was conceived not purely as a business school, but as a school of management. Its mission is to professionalize Indian management through teaching, research, training, institution building and consulting. It also aims to professionalize some of the vital sectors of India's economy.
| | |
| --- | --- |
| Established: | 1961 |
| Type: | Education and Research Institution |
| Director: | Prof. Samir Barua |
| Location: | Ahmedabad, Gujarat, India |
| Campus: | Urban, 100 acres (0.40 km2) |
| Website: | www.iimahd.ernet.in |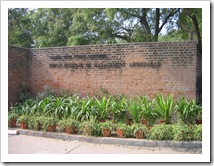 Campus:
The building is designed by Louis Kahn, who was an exponent of exposed-brick architecture. The most distinctive features of the plan are the numerous arches and square brick structures with circles carved out in the facade. An extension to the old campus built across the 132 feet (40 m) ring road was commissioned in 2003 with student dorms and classrooms built in a contemporary concrete design which strives to retain some elements of the old campus' architecture such as the arches and exposed brick facades.
For students who are married, separate housing is available on the campus. The faculty and staff residences are situated just behind the student dormitories.
The excellent sports and fitness facilities on the campus ensure that students can remain fit and healthy to take on the strenuous academic challenges.
Vikram Sarabhai Library:
The library is named after Dr. Vikram Sarabhai, the world renowned physicist and the founder Director. The total area of the library is 20,120 sq ft (1,869 m2) and the total seating capacity is 210 including 50 open carrels. The Institute's library is an invaluable resource with close to 180,000 volumes, 600 current periodicals, 700 CDs (of books, databases, training etc) and more than 2000 working papers and dissertations.
Programmes:
    1. MBA Level Programmes
                (i). Post Graduate Programme in Management
               (ii). Post Graduate Programme in Agri-Business Management
               (iii). PGP- PMP: One-Year Post Graduate Programme in Public Management and Policy
               (iv). PGPX: One Year Post Graduate Programme in Management for Executives
    2. Faculty Development Programmes
    3. Doctoral Programme
    4. Executive Education Programmes
Departments:
    1. Business Policy
    2. Centre for Management in Agriculture 
    3.  Communications
    4. Computer and Information Systems Group 
    5.  Economics
    6. Finance and Accounting
    7. International Management Group
    8. Marketing
    9. Organizational Behaviour
   10. Personnel and Industrial Relations
   11. Production and Quantitative Methods
   12. Public Systems Group
   13. Ravi J. Matthai Centre for Educational Innovation
   14. Library & Information Science
Research Centres:
    1. Centre for e-Governance
    2. Centre for Innovation, Incubation and Entrepreneurship
    3. Centre for Telecom Policy Studies
    4. National Information Centre on Management (NICMAN)
    5. Mental Health Support Program
    6. Centre for Infrastructure Policy and Regulation
    7. Indian Public Sector in Transition
    8. Centre for Management of Health Services
    9. Gender Resource Centre
Contact Us:
1. Postal Address:
Indian Institute of Management
Vastrapur
Ahmedabad 380 015
INDIA
Tel   91 79 66324599
Fax  91 79 2630 6896
2. Important E-mails:
| | |
| --- | --- |
| General Enquiries: | director@iimahd.ernet.in, dean@iimahd.ernet.in |
| Administration Queries: | cao@iimahd.ernet.in |
| Recruitment: | recruitment@iimahd.ernet.in |
| Admission Queries: | admission@iimahd.ernet.in |
| Management Development Programmes: | mdp@iimahd.ernet.in |