9 things you ought to know about TCS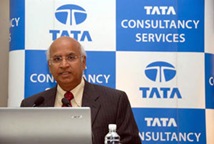 That Tata group-owned Tata Consultancy Services (TCS) is the country's no. 1 IT company and is heads and shoulders ahead most of the other larger players in its domain, few know it is also playing a key role in fuelling the ambitions of Tata Sons.
Similarly, few would know that TCS is fast emerging as the largest private sector employer in the country, having beaten the slowdown blues much better than the rest. Read on to know these and more such must-know facts about the jewel in Tata crown.
==========================================
1. India's $6-billion IT company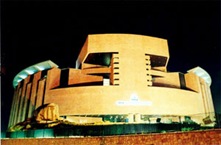 With Rs 27,813 crore revenues recorded in the fiscal 2008-09 made, TCS became a $6 billion IT company from India. Revenues showed a growth of 23 per cent year-on-year. Net profits for the year stood at Rs 5,256 crore showing five per cent annual growth.
TCS said its business share in North America grew 26% annually, while Continental Europe grew by 39% on an annual basis.
==========================================
2. To hire 25,000
Tata Consultancy Services (TCS) plans to hire 25,000 people globally this year, 90% of which will be from India. In April 2009, the company said that it has made 24,885 campus offers for 2009-10.
India's largest IT employer is eyeing the $10-billion revenue mark in the years to come. Announcing its first quarter results TCS has said that it remained on track for graduate hiring programme in 2009-10.
Finally a good news that is likely to give a fillip to the country's IT recruitment scene which is seeing a slowdown since the collapse of Lehman Brothers last September.
==========================================
3. ...but employee additions going down
Though the 25,000 count appears significantly large when compared to the current recruitment numbers, the figure is almost 20,000 short of the number of people TCS hired last year.
At the end of fiscal 2008-09, the company claimed to have added 48,595 employees during the year. The fourth quarter of 2008-09 reportedly saw a net addition of 13,418 to the company's resource pool.
==========================================
4. Among largest private employers
TCS presently has an approximate employee strength of 145,000 people (The company had 143,761 employees on its rolls at the end of fiscal 2008-09).
With another 25,000 employees coming on board in the coming fiscal, the total number of employees globally would go up to more than 1.8 lakh.
This would make TCS one of the largest private employers in India in the league of Tata Steel which has an employee base of 2 lakh people.
==========================================
5. Going to Tier-2 cities
The country's largest IT company is eyeing Tier-2 cities to fuel its expansion this year.
Says, Vice-president and head government industry solutions unit Tanmoy Chakrabarty, "Tier II cities are our only focus for expansion in the country as the top rung are clogged and saturated for space. We will be hiring 25,000 people this year, which means roughly 25 lakh sq ft of work space required and therefore, we need to grow outside the metros, wherever we find the most compelling reason to be."
But one wonders if the company's move to tier-2 cities is a result of saturation or another way to keep salary costs under control?
==========================================
6. Strong booster to Tata empire
Tata Sons, the unlisted holding company of the Tatas, plans to raise its stake in some group companies after its dividend from the TCS doubled to Rs 2,000 crore. The holding company, owned by Tata group's charitable trusts, will use the dividend income to raise stake in group companies where its holding is low and also fund Tata group's expansion plans, said a source in the group. Earlier, TCS had also been instrumental in Tata Sons funding of other ambitious projects.
==========================================
7. Slowdown pangs: Pink slips & salary freeze
Like all its peers, TCS too was hit by slowdown pangs. The turmoil in the BFSI sector in the US hurt the company which has a huge exposure to the segment. It also had to write off some dues of Lehman Brothers and was hit by the bankruptcy of auto major General Motors and telecom giant Nortel.
Earlier this year, TCS announced its plan to freeze salaries. The company also increased working hours from 40 to 45 a week from the financial year (2009-10), and curtailed traveling expenses.
There were also media reports of TCS giving pink slips to some 1000 employees though the company termed these performance-based evaluations.
==========================================
8. 72-hour Passport promise
TCS is implementing the Central government's ambitious 'Passport Seva Project'. Under this project, the company has claimed passports would be issued in flat three working days and the same day under the 'Tatkal' scheme.
It plans to start the project at six pilot locations in October. These cities are Chandigarh, Amritsar, Ludhiana, Bangalore, Mangalore and Hubli. Thereafter, similar centres would be opened in 77 other cities and towns across the country by June 2010.
==========================================
9. Domestic pie remains miniscule
The company now seems to be looking homewards for revenue growth. So far the contribution from Indian government businesses to the company's total $6 billion revenue is still less than a miniscule 5%.
However, seeing the immense potential in government projects, TCS is now aiming 10 per cent of its total revenue from these projects in the next three years.
The trend can be seen across all IT companies who have suddenly trained their eyes on the growing domestic market. May be, we can we call it a lesson learnt the hard (recession) way!
Source: TOI