You thought B Ramalinga Raju, Bernie Madoff and Enron's Kenneth Lay & Jeffrey Skilling are the only high-profile names in the world of corporate fraud? Other than Raju, corporate world has more technology CEOs who duped their shareholders and employees. These white collar criminals are the men behind some of the biggest corporate frauds who swindled millions from their company's resources and wrecked financial systems.
Time magazine recently came out with a list of Top 10 Crooked CEOs, and the list has as many as 5 CEOs from the technology world, that is 50% of the list. Here's over to the `Tech Crooks' list.
1. Ramalinga Raju, Chairman, Satyam
He's not there in the Time's Crooked CEO list. But few (if any), will disagree that Ramalinga Raju is a sureshot in Crooked CEO's list. In a shocking revelation, Chairman of India's fourth-largest IT company Satyam Computers, Ramalinga Raju, stepped down following financial wrong-doings to the tune of thousands of crores of rupees. Raju founded Satyam in 1987.
The confessions shocked India Inc and sent stock markets' into a tizzy. The revelations eroded Satyam 80% of its market cap in a single day. Only in October 2008, Raju told PTI that Satyam had a cash pile of Rs 4,000 crore and could leverage it to muster another Rs 15,000-20,000 crore to aggressively pursue acquisitions -- his cherubic innocence hiding the mess his company was in.
The balance sheet as of September 30 carries "inflated (non-existent) cash and bank balances of Rs 5,040 crore (as against Rs 5,361 crore reflected in the books)," the Harvard Business School alumnus told in a letter to employees on January 7.
While he is credited with designing simple, yet effective models to create value, these models did not always work for Raju, the reason why he went about designing an elaborate plan to make up for the lack of real assets with fictitious ones. The former entrepreneur icon's plans started falling apart when he tried to acquire two companies promoted by his family for $1.6 billion. Investors' dissent forced him to go back on the deal and then there was no way forward or sideways -- so he called quits.
To perpetrate the fraud, the accused also created an identity and code that not only bypassed all other accounting systems, but also managed to hide the fraudulent invoices from other departments.
2.Dennis Kozlowski, Tyco International Ltd
Leo Dennis Kozlowski, the former CEO of Tyco International, was convicted of misappropriating of more than $400 million of the company's funds to support his lavish lifestyle in 2005.
Kozlowski was found guilty of — in effect — using Tyco's huge financial resources for what the prosecution described as his "own personal piggy bank."
This included buying $6,000 shower curtain, and stealing over $100 million from the company. Kozlowski was charged along with another Tyco executive Mark H Swartz. They were convicted in June 2005 on first-degree grand larceny and other charges related to accusations they stole $180 million outright and improperly made about $430 million by manipulating Tyco's stock value.
They were convicted of securities fraud, grand larceny and other charges related to accusations they stole $180 million outright and improperly made about $430 million by manipulating Tyco's stock value.
3.John Rigas, Adelphia Communications Corporation
Another big fraud that shook the corporate world was planned by founder and CEO of Adelphia Communications Corporation, John Rigas. Adelphia was once the fifth-largest US cable-television company. The company filed for bankruptcy in 2002.
Adelphia Communications Corp founder Rigas and his son Timothy were convicted of securities fraud and bank fraud, as well as conspiring to commit securities fraud, bank fraud, falsify books and records and make false statements to the Securities and Exchange Commission and for hiding $2.3 billion in liabilities from Adelphia investors.
Rigas reportedly misused company funds to support his lavish lifestyle. He allegedly ordered two Christmas trees, worth $6,000 for his daughter. Rigas also bought as many as 17 cars and 3,600 acres of timberland to preserve the pristine view outside his Coudersport home from company funds.
In 2004, Rigas was convicted and sentenced to 15 years in prison.
4. Joe Nacchio, Qwest International
In one of the biggest scandals in telecom history, former CEO of Denver-based telecommunications company Qwest International was convicted of insider trading.
The SEC lawsuit, filed in 2005, alleges that actions by Nacchio and other former Qwest Communications International Inc. executives allowed the Denver-based company to improperly report revenue.
However, Nacchio appealed saying that the company's stock plunge was the result of a telecommunications industry meltdown, not financial fraud.
In addition to his federal prison term, he was fined $19 million and ordered to forfeit the entire $52 million cash hoard he made from the insider sales. He continues to faces a lawsuit by the SEC that accuses him and others of financial fraud.
5. Gregory Reyes, Brocade Communications Systems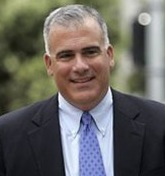 A stock option backdating scandal hit the storage networking company Brocade Communications Systems in 2005. Its CEO Gregory Reyes was sentenced to 21 months in prison for tampering with the financial records of stock options the company offered its employees.
Reyes maintained throughout his trial that he never knowingly violated accounting laws and that the stock option compensation program at Brocade — including the backdating practices — was handled with the knowledge and endorsement of Brocade's finance department and the company's outside advisers, including its accountants.
However, emphatically rejecting his assertion, US District Court Judge said that to the argument that the accounting and reporting were too complicated, Gregory Reyes never gave the auditors a chance because he lied to them. To the argument that the public would not care, the answer is simple. A jury in this court (rendered) it. The offense is about honesty. Every time Gregory Reyes falsified a document, repeatedly over three years, he was lying. That is the core of the criminal conduct.
Reyes was sentenced to 21 months in prison and ordered to pay $15 million in fines.
6. Bernie Ebbers, WorldCom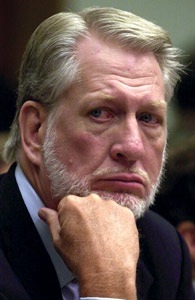 Bernie Ebbers, the co-founder of the telecommunications company WorldCom, is the man behind the biggest corporate fraud in the US history. Ebbers was sentenced to 25 years in prison for executing an $11 billion accounting fraud. Legal experts said the sentence was the longest ever for a CEO found guilty of committing corporate crimes while running a Fortune 500 company.
Rated by Forbes in 1999 as one of the 200 richest Americans, the magazine described Ebbers as, "The ultimate corporate shopaholic, who bought an obscure telephone carrier in the 1980s and went on a 17-year acquisition binge that turned it into the world's largest telecom company."
However, "his passion for deal making didn't translate into the savvy necessary for running the complex business. When telecom stocks went south in 2000, the company's massive debt was exposed. Ebbers tried to disguise it through fraudulent accounting," writes the magazine.
In 2005, three years after WorldCom filed for bankruptcy, Ebbers was sentenced to 25 years in prison for leading the largest corporate fraud in US history.
Mississippi-based WorldCom filed for bankruptcy - also the largest in US history - in 2002. It later re-emerged under the name MCI Inc.
source: TOI