The institute was established as College of Engineering & Technology, Delhi on August 21, 1961. IIT Delhi is situated at Hauz Khas in South Delhi. The Institute is actively involved in collaborative programmes that are internationally and nationally recognized in order to remain at the forefront on the scientific and technological developments and to share its experience with them. At present, a number of collaborative research projects are in operation with the institutions in Austria, France, Israel, Italy, Germany, Netherlands, Norway, Sweden, UK, and USA. Some of the facets of these collaborations include students and faculty exchange, joint research and fellowships for training at the doctoral and postdoctoral level.
| | |
| --- | --- |
| Established: | 1961 |
| World Ranking (2009): | 36 |
| Indian Ranking: | 3rd |
| Type: | Education and Research Institution |
| Director: | Prof. Surendra Prasad |
| Undergraduates: | 2300 |
| Postgraduates: | 2500 |
| Location: | Hauz Khas, New Delhi, India |
| Campus: | Urban, Area 320 acres (1.3 km2) |
| Website: | www.iitd.ac.in |
Indian Institute of Technology (IIT) - Delhi Campus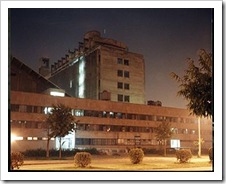 The campus of the Institute extends to an area of 320 acres (1.3 km2). With many topographical features, imaginatively laid out with picturesque landscape, numerous buildings of various nature and stature, and clean and wide roads, the campus presents a spectacle of harmony in architecture and natural beauty. The campus area has been divided into four functional zones :
(i) Residential zone for students
(ii) Residential zone for the faculty and staff
(iii) Academic zone for academic buildings and workshops
(iv) Cultural-cum-social and recreational zone for students.
Hostels:
There are, in total, 11 hostels (9 for boys and 2 for girls). Each hostel has a capacity of around 400 students though some hostels can house 600 students. However the women's hostels have a much smaller capacity. Each hostel has its own mess, a common room where residents can watch television and read magazine and newspapers and a visiting room where residents can receive their guests.
Courses Offered at IIT-Delhi: -
Computer Science and Engineering
Civil Engineering
Chemical Engineering
Engineering Physics
Engineering (Power)
Electrical Industrial and Production Engineering
Electrical Engineering
Mechanical Engineering
Textile Technology.
Contact Us:
1. Indian Institute of Technology Delhi Hauz Khas, New Delhi - 110 016.
INDIA
FAX: (91) 011-2658 2037, (91) 011-2658 2277
Email: webmaster@admin.iitd.ac. in
2. Undergraduate Programmes:
Dupty Registrar (UGS)
Indian Institute of Technology Delhi
Hauz Khas, New Delhi-110 016
Tel:+91-11-26591718,+91-11-26591725
Fax:+91-11-26597114
E-mail: drugs@admin.iitd.ac. in
3. PG Programme Information:
E-mail : drpgsr@admin.iitd.ac. in
4. PG Programs [Foreign Nationals]
Deputy Registrar (PGS & R)
Indian Institute of Technology Delhi
Hauz Khas, New Delhi-110 016
Tel:+91-11-26591737
E-mail: drpgsr@admin.iitd.ac. in